I can't stop thinking about all of the extra work teachers are putting in this year.
Teaching has always been demanding. But teaching in 2020 (and yes, 2021) is a whole new ballgame. I know that it's exhausting to plan different activities for your various groups of learners right now; one activity for the in-person students, another for the students learning from home. Not only is it hard to plan and keep track of it all, but it's even more difficult to get these students to actually interact with one another. During the year when it matters the most, it's the most challenging to build our normal sense of community.
What if it doesn't have to be that way? What if we can engage ALL students, together, in the same activity? Can pairs and small groups can include a mix of "roomies" and "zoomies?" YES, they can! You've got this. And I've got you.
Keep reading to catch a glance at the activities teachers are having the most success with right now. I designed each activity below specifically for this unique year; a year filled with changing classroom environments and the need for making connections with our students.
First up: Panal de Preguntas
Panal de Preguntas is a digital game meant for partners or small groups 🙂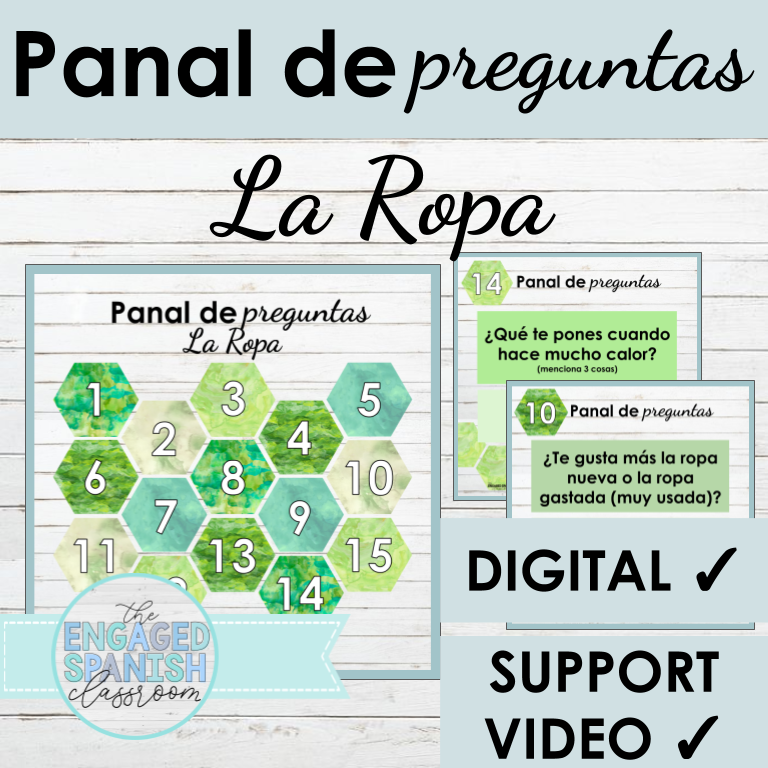 I made this version of Panal de Preguntas by request! There are a handful of game sets in my store for the present, preterite, future, and conditional tenses, and this new set covers basic clothing words and preferences 🙂 Students type directly into the digital game, and move their digital game pieces (included) to claim spaces and block their opponents. Everything is done digitally, so students can play with someone in the same room or with a student in a different cohort! There is no trouble if one student is in the room while another is at home joining via a device.
I added a walkthrough video that was originally meant for teachers, but I've heard from a few teachers that they've been playing that video instead of going over the instructions themselves. I love that! Click here to take a closer look at the version shown above. You can see the editable versions of this game here (normal and GRANDE game board), and all of the ready-made versions I have for you are right here.
Next up, a classroom staple: Taco Tuesday
If you don't know, now you know; ALL of my Taco Tuesday games have been updated to be digital ready!
This game was another special request! If you have my Taco Tuesday bundle, I added it there last week! Taco Tuesday is a great activity because you can play for almost any length of time and you can differentiate for ANY level and skill set.
If you haven't tried Digital Taco Tuesday yet, what are you waiting for!? You can read more about how students play right here. Find differentiation options and more ideas here. Teachers have told me they love the digital updates because they can keep their Taco Tuesday tradition during an otherwise *very* unique year.
Click here to see the editable digital game templates if you'd rather make your own games again and again! Again, I have included walkthrough videos in every Taco Tuesday resource 🙂 And if you had purchased one in a previous year, PLEASE make sure you download your update! I updated every single existing Taco Tuesday game to be DIGITAL READY.
Reluctant participants? Mano o Manos is for THAT class!
With options for participating with cameras on or off, this activity focuses on INPUT with very low pressure output. Great for building confidence, openers, or exit tickets.
Mano o Manos was actually the first activity I designed to support students participating via camera this school year. The main idea is that students express their feelings about a statement/question based on holding up one hand or two on camera. The hand(s) they raise represent their answer chosen from options on the screen; OR, they hold up a closed fist to express that they have an additional answer to share. I love that students are given an opportunity for output, but without any pressure.
Let's be honest; I know that students are very hesitant to turn their cameras on. If you are facing this struggle, you are not alone. I have heard from a few teachers on social media that this is the only activity that gets them to turn them on (!!!!) – my guess is because it's so low pressure and provides lots of comprehensible input with very little demand for output.
For students who truly don't want to be on camera, there is a *cameras off* option included in the instructions. (Students will just type 1, 2, or 3 in the chat rather than holding up their hands.)
You can see all pre-made sets here. I have editable templates available for this activity as well, again, because I know that teachers like to differentiate their activities so they are *just right* for their very own classes. I get it. I've got you.
Wrapping things up, literally: Digital and Editable Openers and Exit Tickets
These will save you time every single week – and I see them being a staple after virtual learning as well.
This is one more bundle I put together to engage both the students in class and the ones at home. These opener and exit ticket templates are completely editable — they are ready for YOU to adapt for your students. The possibilities are endless! There are 80 editable slides total – options included with locked aspects to protect formatting, or open formatting so you can add/remove options or just really make them your own. I hope they save you time and help build consistency with your students during this year that has been anything but.
You've got this.
I hope these ideas can help you in the coming weeks! Many schools are moving back and forth between hybrid and remote, sometimes with very little notice. I think we can all agree this is the most stressful year for all teachers and students, and my goal is to take some of the load off your shoulders while creating activities that our students will enjoy. We need these small moments of joy.
Hang in there, profes. I see you.